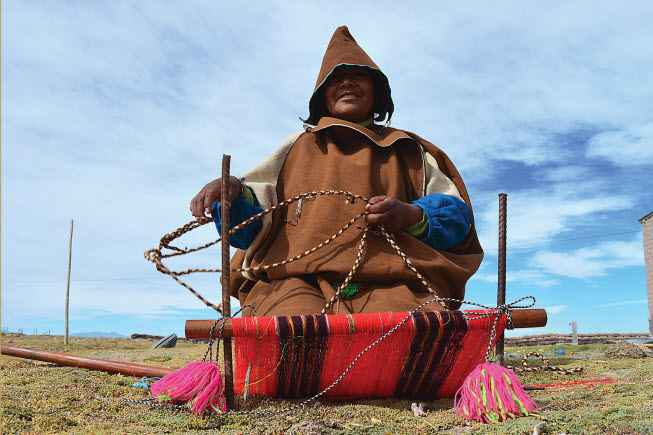 The Chipayas belong to the Urus culture and have survived the test of time. If one is looking for unprecedented experiential tourism, this is the opportunity. One can stay in a cozy hostel with hot water and explore the Andes' mystical landscapes with local guides.
This nation's four ayllus inhabitants — Aransaya, Ayparavi, Manasaya and Wistrullan— preserve their ancestors' traditions regarding their clothing, buildings, and lifestyle. Visiting them is a very pleasant experience, thanks to their hospitable and open nature.
During the visit one can explore impressive Andean landscapes while they share their wisdom in weaving, braiding, music, agriculture, and other ancestral customs.
Among the tourist attractions we highlight the Salt Lake, the Coipasa Salar, the Red and White Dunes, and the Lauca River. In addition, the hostels offer varied dishes, combining regional agricultural products such as quinoa, canahua, lamb or llama meat, potatoes, and cheese, with vegetarian options, among other national dishes.
Chipaya is an autonomous municipality that is located at the Sabaya province, Oruro department. This
community borders the northern shore of the Coipasa Lake.
Tourist attractions:
Salt Lake
Coipasa Salar
Red Dunes
White Dunes
Lauca River
Way to get there:
From Oruro, take the Toledo, Pisiga route. The trip lasts three to four hours, and the transport
leaves every day from the Avaroa market, at 16:00.
Essential clothing and accessories:
Sunscreen
Cap or hat
Warm clothes
Good footwear to fully enjoy your experience in the Andes.
Travel services:
Transport
• Food, varied menu combining the region's agricultural products (quinoa-based dishes, canahua,
lamb or llama meat, potatoes, and cheese) with other national and vegetarian dishes.
Contact:
---
This content is taken from the "Soy Bolivia" verified guide, prepared in April 2023 with information provided by organizations and communities involved. This guide is updated annually to ensure its validity. In order to suggest a community tourism venture, free of charge, you are welcome to send a WhatsApp message to the number (591) 70079347.
Note: Prices are updated to May 2023.
Warning. The images in this guide were provided by representatives of the involved communities, who assured that they use these photographs for the respective promotions of their ventures.
This post is also available in:
Español