The El Palmar Integrated Management Natural Area (ANMI), located in the Chuquisaca department, in southern Bolivia, is an ideal destination for ecotourism lovers. It is the Jucumari bear habitat (Tremarctos ornatus), the puma (Puma concolor), the red-fronted macaw (Ara rubrogenys), the anteater (Tamandua tetradactylia) and the hoatzin (Opisthocomus hoazin), among others. It also has condor (Vultur gryphus) nests.
With local guide accompaniment four circuits can be visit, these include condor observation, a tour through the janchicoco palm forest – a Bolivia endemic palm tree, visits to waterfalls and natural pools.
Tourism in the area provides an important economic support for local communities, as well as being a key element in three ecoregions preservation: inter-Andean dry forests, Chaco Serrano, and Tucuman – Bolivian forests.
It takes between one to three days to visit these attractions. Below, the four tourist circuits are detailed:
Yana Qucha: Visit to janchicoco palm forests, waterfalls, and natural pools.
Qala Rumi: Hike to observe landscapes, geomorphological formations, flora and fauna.
Mission Canyon: Tour to observe natural landscapes: palm forest – the Jukumari bear habitat, flora and fauna, river pools, and waterfalls.
Condor banana: Route to enjoy landscapes, flora and fauna, and condor observation.
Janchicoco, a must-see on your visit
The janchicoco (Parajubaea torralyi) is a palm species that is endemic only in Bolivia and is found in this destination. Its fruits are the size of half an almond, taste like coconut and are used in local gastronomy and derivatives production.
En gastronomía, se utiliza como base para diversos platillos tradicionales, y también para la producción
In gastronomy, it is used as a base for various traditional dishes, and also for cookies and alfajores production, which due to its characteristic flavor is highly desired by visitors.
Also, the janchicoco palm leaf is used for handicrafts and basketry, while the Yampara culture uses its fibers for its weaved fabrics. On the other hand, the janchicoco nectar is used to make soft drinks and alcoholic beverages, and even musical instruments can be built with its wood.
All these products are available to those who visit the place. Travel services:
Tourist transport, food, lodging, guide services
Photography and campfire (night together)
Visit to local fairs, depending on the date
Local music entertainment
Janchicoco harvest artisanal practices and coexistence with community members
Visit to productive and fruit plots
Visit to the janchicoco processing plant
Location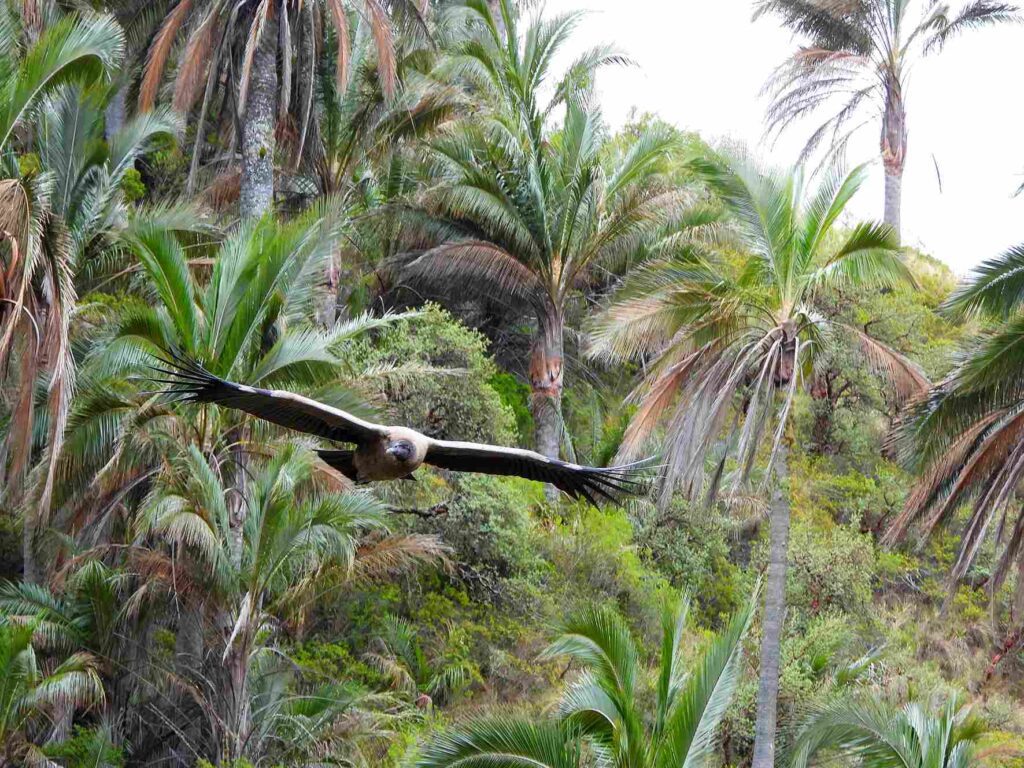 The El Palmar Protected Area is located in the Presto municipality, Chuquisaca department. See location. Click here
Best time to visit:
Dry season, from April to November. Way to get there:
If you want to go on your own, there are two options: from Sucre, take the route to Tarabuco and Presto until you reach the El Palmar Protected Area. The other option is to arrive from Santa Cruz, passing through Presto and then continuing towards El Palmar.
Regarding distances and times, from Sucre to Presto there is a distance of 100 km, and it takes approximately two hours to get there. From Presto to El Palmar there is a distance of 50 km, and the estimated travel time is 1.5 hours. Remember that these may vary depending on road and traffic conditions.
Essential clothing and accessories:
Warm and comfortable clothing
Trekking boots
Hat or cap
Sunscreen
Water Costs:
Entrance ticket to the Protected Area.
Foreign rate: Bs 100 ($us 14.5)
National rate: Bs 30
Student rate: Bs 10
Transport service
Public transport from Sucre to Presto: Bs 5 ($us 0.70)
Public transport from Presto to El Palmar: Bs 10 ($us 1.5)
Hired transportation from Sucre to El Palmar: Bs 800 ($us 115) Food service.
Breakfast: Bs 10 ($us 1.5)
Lunch: Bs 20 ($us 3)
Dinner: Bs 20 ($us 3) Lodging service
Communal shelter: Bs 40 per person ($us 6) Guide service
Per circuit and per group of up to 10 people: Bs 80 ($us 12)
Campfire service: Bs 50 ($us 7.5) per group, includes campfire and native music. Contacts:
Tomas Calahuma, El Palmar Protection Head: + (591) 74803206
Israel Cervantes, In charge of Community Tourism : + (591) 74422612
Ponciano Arancibia, Rodeo El Palmar Community local guide: + (591) 72881461
This content is taken from the "Soy Bolivia" verified guide, prepared in April 2023 with information provided by organizations and communities involved. This guide is updated annually to ensure its validity. In order to suggest a community tourism venture, free of charge, you are welcome to send a WhatsApp message to the number (591) 70079347.
Note: Prices are updated to May 2023.
---
The images in this guide were provided by representatives of the communities involved, who assured that they will use these photographs for the respective promotions of their ventures.
This post is also available in:
Español